6/09/21
June 9, 2021


Those of you who don't use the Sammy Sosa baseball card where he stares seductively at a baseball while wearing the White Sox throwbacks as a currency may observe your reverance for Mr. 609 every year on 6/09, but only once in a century does 6/09 happen to fall on a year ending in 21. Today is the ultimate Sammy Sosa Day — yes, the real ultimate Sammy Sosa Day — and here at The Playhouse, we're celebrating by resuming our coverage of all the things we cover at The Playhouse. Jay, Jorge, and the Steves have all updated their sites with summaries of their respective teams' seasons so far, while on the main site, Paul Hauss has tackled the complicated issue of Cancel Culture and how baseball can survive it.
---
SKIN WATCH UPDATE
June 15, 2020


ESPN, the worldwide leader in New York journalists debating Kevin Durant's Twitter activity, aired a documentary marketed as being about the 1998 Home Run Chase between Sammy Sosa and Mark McGwire. Well, it was certainly about Mark McGwire, that's for sure, but what about Sammy? Let's just say, viewers got only slightly more of a glimpse of Mr. 609 watching 'Long Gone Summer' than they would have gotten staring at Wrigley Field's boxseats for the past decade. Not that we would know anything about that.

However, the scant Sammy Sosa scenes did give the Skin Watch some material to analyze, and everyone in the Playhouse will be very excited about the results...

SAMMY SOSA IS BLACK AGAIN! Granted, he got a 0.5 on the blackness scale, but that counts, dammit! We suspect coronavirus inspired him to stop using Creme de Sosa, or he decided to show solidarity with the Black Lives Matter movement. Check the Skin Watch for more details.
---
REMEMBERING THE HIGHLY HEATED GAMER + INTRODUCING DETROIT BEISBOL CAT STEVENS
March 31, 2020


Tragedy struck The Playhouse when our former video game journalist, The Highly Heated Gamer, was eaten by a tiger on Lake Shore Drive. To make the situation even more awkward, Steve Goatman (who, incidentially, updated his Cubs site yesterday) insisted we'd be eternally cursed if we did not respect the holy Satanic law of allowing anyone who consumes another's flesh to take over their victim's job at a baseball publication. Having great respect for our employee's religious worship, we went to interview the tiger.

If we hadn't brought Jay the Gibbon to translate, we might have assumed he escaped from the Lincoln Park Zoo, but thanks to our beloved ape prodigy, we learned that the tiger comes from the alternate universe where the Philadelphia Phillies' attempt to draft an underaged Sammy Sosa in 1984 was not vetoed and rock music is performed by sentient felines. In his dimension, Detroit Beisbol Cat Stevens was folk rock's leading singer/songwriter, and thanks to a Konami Laserscope that Professor Corkscrew has modified to work with all game consoles, this cat can play all sorts of sports video games. You can read all about our new games journalist on the About the Staff page.

Detroit Beisbol Cat Stevens will play through baseball video games and document his results for us in our new feature, Catch Ball at Four. The first game he is tackling is the beloved Super Nintendo title, Ken Griffey Jr. Presents Major League Baseball.

Rest in peace, Highly Heated Gamer.
Catch Ball at Four: Ken Griffey Jr. Presents Major League Baseball
---
FASCIONISTA UPDATE
March 27, 2020


Even if the 2019-20 offseason was not longer than usual, it would still be the most eventful ever in the history of sports uniform nerdom. The two most forefront battles for Fascionistas - the Brewers Ball-in-Glove logo and the Padres in brown - have seemed to end. Is there really nothing for uniform nerds to bitch about now? Francine Fash will be the judge of that. She has previewed the new Brewers set, and will update the new Padres set soon.
The Notorious BiG: Previewing the 2020 Milwaukee Brewers Uniforms
---
UPDATE ON UPDATES
March 24, 2020


The "News" button that takes you from the main page to here has been renamed "Updates", while this page has been retitled from "News" to "News and/or Updates".

Also, Jorge Bush updated his Rangers site with a response to President Trump's latest statements on the pandemic.
---
SASR UPDATE
March 23, 2020


While some wonder how baseball fans will be able to compare the eventual 2020 champions and award winners to those who those who spent 162 games before being decorated, Professor Ian Corkscrew has emerged from the Society for American Sosa Research to encourage you to give Sammy Sosa's shortened 1994 season a second look.

Also, Jay updated his Orioles site with a summary of Adam Jones's Reddit Q&A, to save you the shame of having to navigate Reddit, and Steve Goatman updated his Cubs site with some reflections of baseball during the 1918 Spanish Flu pandemic.
---
NEW IMAGE GALLERY
March 22, 2020


You may have wondered why we bothered to group our image galleries on the same page as our written columns when we only have one image gallery. You can wonder no more, because Sammy Sosa Pointing At Shit is no longer alone in the image half of Images and Words. We have added an image gallery of pictures where Sammy Sosa is dressed as a cowboy.
---
THE DOT-CC BUBBLE HAS BURST
March 21, 2020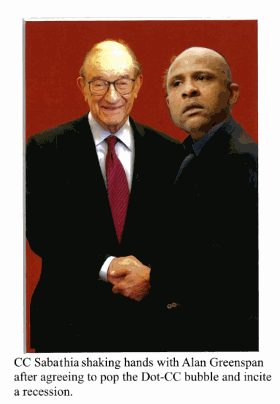 The Playhouse's internet landlord, CC Sabathia, decided to jack up the rent on the SosaPlayhouse.cc domain name as we were about to renew it for the next year. We are combating that fat Yankee's northern aggresion by switching to a new domain name: SosaPlayhouse.com. Please update your bookmarks.

That's right, the Dot-CC bubble has officially burst. We can only assume that CC conspired with the Federal Reserve to attack the one thriving sector of the economy during these trying times to incite another recession. Millenials, look at the men on the right; remember their faces and their names. They are why you will never own a home.

Again, the new URL is SosaPlayhouse.com.
---
INTRODUCING PLAYHOUSE TV
March 20, 2020


We've updated the FUN page to replace our unfun hyperlinks with quantifiably fun pictures, so go play around in the Fun page. More importantly, we've added a Fun Feature you can find in the Fun Page. Sammy Sosa's Playhouse is excited to introduce PlayhouseTV, a constantly running video stream of Playhouse-related video content.

PlayouseTV cycles through over a hundred full length baseball games featuring Sammy Sosa, the Playhouse teams during the Steroid Era, notable games featuring fan-favorite Steroid Era players from non-Playhouse teams (Greg Maddux, Barry Bonds, Ken Griffey Jr., etc.), and dozens of commercials featuring 90s athletes. Besides baseball, there's Bulls games featuring Dennis Rodman and episodes of Dennis Rodman's relationship advice podcast. There are dozens of Sportscenter and Baseball Tonight Episodes from Sammy's era. Sammy Sosa's animated bipoic is in the mix along with movie trailers featuring Sammy Sosa. You can even watch Bill Clinton's 1999 State of the Union Address, which Sammy Sosa attended as a guest of honor, and chat with our customized Sammy Sosa emoticons! What more could you want?

PlayhouseTV is hosted by Taima.TV, which is always running, except when it isn't. If at least one person in the world is watching, then the stream will run and anyone else who tunes in will be watching the same video at the same spot as everyone else. If nobody is watching, the stream stops. We will have someone running the stream whenever possible to make sure the videos cycle through, but even if no Playhouse employee is tuned in, any of you can keep it going.
---
SKIN WATCH UPDATE
March 19, 2020


The weather may be warming up, but according to The Playhouse's Sammy Sosa Skin Watch, Mr. 609 has gotten whiter. This is very exciting, because Sammy is now a solid level 4 in whiteness. That's right, Sammy has become an actual vampire! Could Sammy be practicing some 'social distancing' during the pandemic? He is in his 50s, after all. In his current level of whiteness, Sammy tends to become something of an expert in bat biology, so perhaps he'd have something to say about the origins of COVID-19.
---
CORONAVIRUS UPDATES FROM EACH PLAYHOUSE TEAM
March 18, 2020


Not since the 1994-95 Player's strike has the MLB season's schedule been shortened. Not since 9/11 has there been any leaguewide disruption, and no games were cancelled that year. The postponement of the 2020 season is such a big story, that all four of our Playhouse team beat reporters have released statements addressing the COVID-19 outbreak, the delay of the season, and how it affects their respective Playhouse teams. Jorge Bush and Stone Cold Steve Stone seem rather upset about the season being pushed back a couple months. It's hard to tell with Stone Cold, since he's usually angry. Jay the Gibbon seems optimistic about something, though I'm not quite sure why. Steve Goatman seems a little turned right now, which is pretty weird. Anyway, click the corresponding Sammy head on the main page to read their statements.
---
A CALL FOR UNIVERSAL BASIC INJECTIONS
March 17, 2020


We've all heard that MLB has delayed the start of its season in responsse to the COVID-19 pandemic. Everyone seems to this agree is the appropriate move, but how what actions should baseball take when the season starts to protect players and fans when the season eventually starts? The Playhouse and the Jose Canseco School of Medicine offer a solution.
---
SKIN WATCH UPDATE
December 21, 2019


It's been a while since we've had credible reports for the Sammy Sosa Skin Watch, and it's been even longer since we've had such a dramatic change in color between updates. You won't believe your eyes, and Sammy won't believe how much easier it is for him to get a home loan now!
---
'STROS GIVE YOU HEAVY, BAY-BAY
December 15, 2019


With so much happening in the world of baseball since September, we bet you were wonder what foreign quagmire we have been mediating through the power of Basketball Diplomacy for so long that we missed all of it. Don't worry, while Ozzie Guillen is still the legitimate president of Venezuela, we've merely been unable to update due to senior editor Paul Hauss being comatose for months. Read all about it in our official statement about the Houston Astros sign-stealing scandal — a scandal so significant that we had to leave 1998 for a few moments.
---
The Onion knocks on Playhouse door, tugs on heartstrings
December 13, 2019


You don't throw baseballs in glass playhouses, especially not from right field. The Onion has written an article relevant to Sammy Sosa's Playhouse. All members of the Playhouse faithful would love for The Onion's satire to prove predictive of reality, but we know that the Ricketts Regime remains relentless in thier baseball moralism. It's a funny premise for an Onion article, but we'll try not to commit too many terrorist acts in response to The Onion's apparent inability to spell "McGwire."
Cubs Sign Sammy Sosa To $300 Million Deal Just To Give Casual Fans Point Of Reference
---
TONY KEMP UPDATE - PLAYHOUSE VICTORIOUS
September 11, 2019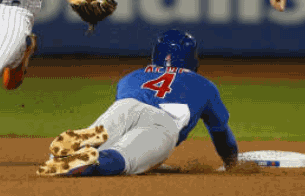 It has been a while since our last update, and in the fashion of true-blue Cubs fandom, it's apparently been a while since we've watched baseball, as a bombshell has been brought to our attention. We have indeed done it, Reddit. Cubs utilityman Tony Kemp has changed his jersey number from Sammy's #21, to the perfectly kosher #4. Kosher for us, anyway. Sorry, Jeff Blauser, we just don't care that much about you.

What is particularly inspiring about Tony Kemp's conversion to Sosalogical orthodox is that this jersey number change has happened while the season remains in-progress, as opposed to Tyler Chatwood who rightfully surrendered Sammy's captive number during the offseason. Under MLB rules, when a player changes jersey number in the middle of a season, he must personally buy out the unsold merchandise produced with the old number, with personal funds. To be fair, there are probably not that many Tony Kemp #21 replicas floating around the marketplace, but Tony still had to make a financial sacrifice to make jersey justice happen.

Sammy Sosa's Playhouse is taking full credit for this. Of course it was Tony Kemp who made this brave decision and deserves our praise, but we find it hard to believe that he would have concluded to make this change by a random change of heart. Tony Kemp must be an avid reader of the Playhouse, and he saw our open leader, taking it to heart. Thank you, Tony. We salute you now, and will remember you as a great Cubs legend when Tom Ricketts doesn't give you a contract this offseason.
---
IMPORTANT SOCIOPOLITICAL ACTIVISM
August 26, 2019


The Playhouse does not take our position as the last bastion of integrity in sports journalism lightly. We understand we cannot be silent about the issues that affect the people. This isn't Michael Jordan's Sweatshop, we take pride in our duty to be a role model for the children, and a force for political change. It is for this reason that when we saw ESPN announce the 2019 lineup of their magazine's annual Body Issue and neglected to include Sammy Sosa, we knew we had to start our next campaign. Sammy Sosa's Playhouse is proud to announce our Change.org petition to Feature Sammy Sosa in the ESPN Body Issue. This campaign will be a major focus of The Playhouse from this day on.

Sammy Sosa's Playhouse is happy to have had answers to the questions brought forth by our followers and disciples over the years. It is a deep regret of ours that we have been unable to answer the question on many of your minds, that is, whether Sammy Sosa's penis is black, or white. With the ESPN Body Issue, the people can find out what they desperately need to know. Sign the petition. Tell your friends. Share on Social Media. Share on Antisocial Media. Let's #PopTheCork on #SammysCork
SERIOUS FUN: PETITION TO FEATURE SAMMY SOSA IN THE ESPN BODY ISSUE