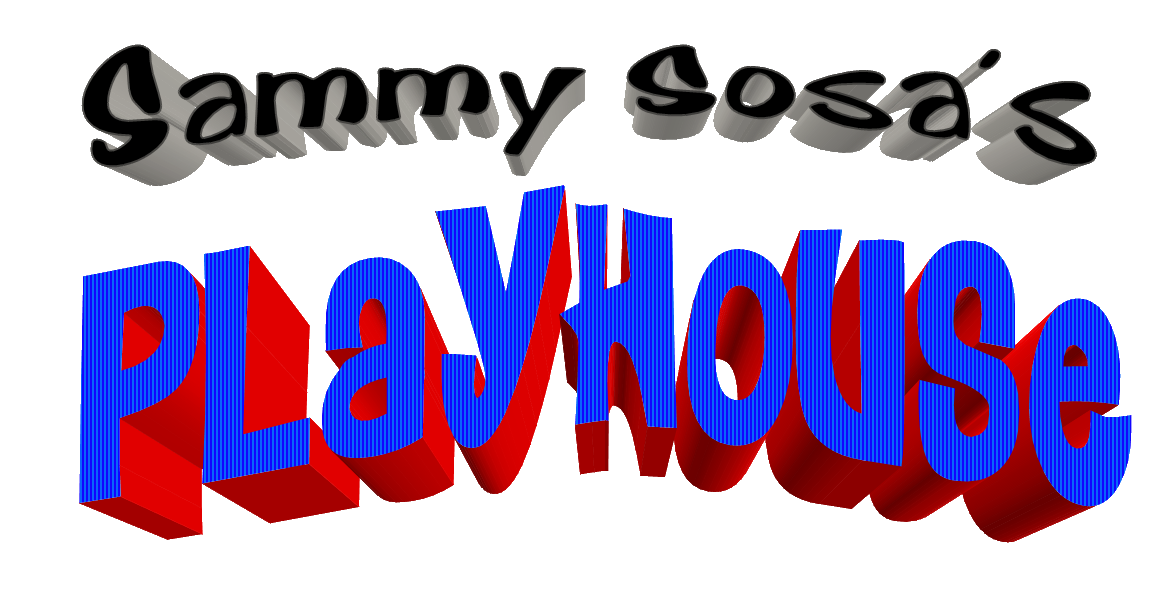 Sammy Sosa X Mark McGwire: A Canon Ship
Written by Paul Hauss - June 30, 2019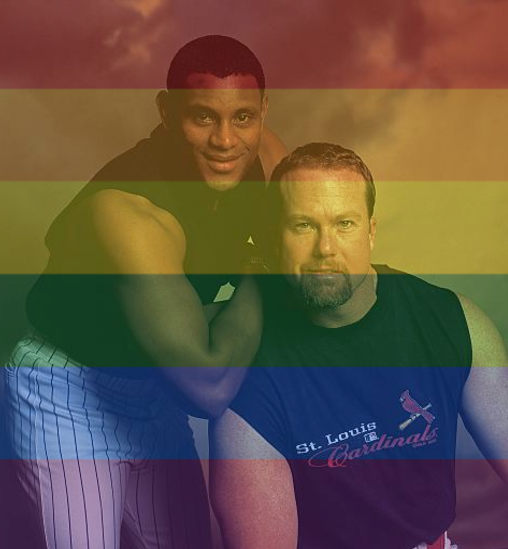 As we close out Pride Month, let's look back at one of The Playhouse's longest-running themes: the homosexual relationship between Sammy Sosa and Mark McGwire. We use the word "theme" instead of "gag" not because we don't want to make assumptions about the chosen equipment for their bondage sessions, but because we need to be clear that t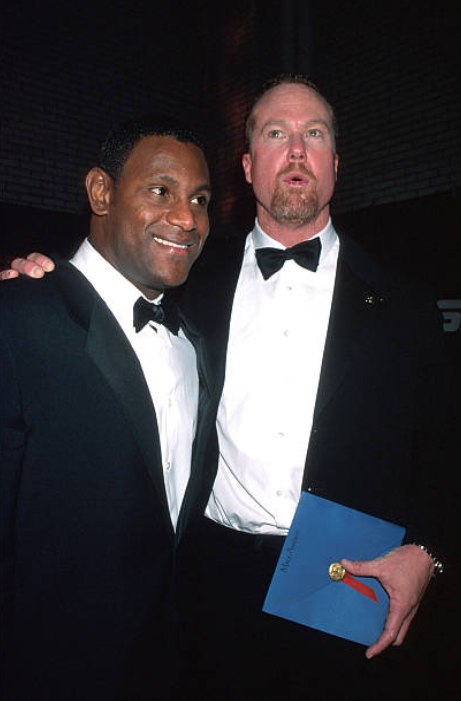 his isn't a joke. Sammy and Mark are absolutely gay lovers.

Okay, okay, Sammy Sosa has been married to Sonia Sosa, a woman, for over twenty years. They have produced six beautiful children via good old-fashioned, all-Dominican-American coitus. Sammy and Sonia's marriage has been filled with nothing but love and happiness. These are facts, but they do not negate the fact that Sammy has spent much of his career under the motivation of getting a bite of the Big Mac.That's not a dampter between The Man's sacred bond with his woman. They may be God-fearing coitus-havers, but they are Catholics, so there's some wiggle room in these types of relationships.

Now that we've established that our documentation of Sammy and Mark's gayness is in no way an attempt to destroy Sammy's matrimonial life, let's start cleaning out the deepest depths of this closet.

Sammy Sosa and Mark McGwire both started their careers in the late 1980s American League West, but they started their careers in positions so mechanically different from each other that their own personal paths had very few opportunities to cross. Fresh off an Olympic Gold Medal, Mark McGwire burst onto the scene in 1987 by htting a rookie-record 49 home runs and winning AL Rookie of the Year. He and Jose Canseco formed the Bash Brothers, who spent countless hours naked in shared locker room stalls to lead the star-studded Oakland Athletics to three pennants and a 1989 World Series victory. Sammy's beginnings were much more humble, even without accounting for childhood homelessness. Debuting in 1989 at the government age of 20, Sammy had barely gotten acquainted to life under a roof when the Texas Rangers that drafted him traded him to the Chicago White Sox in July. While McGwire's piling accolades lent more credibility to his Big Mac nickname, Sosa's Sox struggles stalled Slammin' Sammy's nickname attainment process.

Sammy had no time to fraternize with enemies or spend his pre-games focusing on anything but his own practice. Sammy's White Sox and Mark's A's played each other many times, but by the time Sammy had taken his game to a state that could possibly draw the eye of a world class slugger like Mark, he had been traded across town to the National League's Chicago Cubs.

While Sammy became one of the NL's leading power-speed threats on Cubs teams that were otherwise only watchable for the suspense of seeing if Harry Caray could ever learn how to pronounce "Shawon", Mark McGwire had become even more impressive than he was on the A's teams that were now dismantled in a much less successful Moneyball trial run. While Oakland made their home in the reformed AL West division, Mark McGwire began putting up 50-home-run seasons. The national spotlight was cast upon a Big Mac who had gained significant muscle mass and grew out an iconic mullet/goatee combo, so much so that Jose Canseco's returned to Oakland for a Bash Brothers reunion. While they spent many naked hours together in the 80s, Mark found that Jose's needles weren't quite as exciting as they were in the 80s and wanted to take advantage of his new confidence with new adventures with new people. This lead to a mid-season trade to the St. Louis Cardinals in 1997, in the same NL Central division as Sammy's Cubs.

Professional athletes don't watch sports in the same way that fans do because they spend so much time and energy on their own team's grind. It might be hard to imagine for anyone who was awestruck by Mark's Oakland bombs making nightly highlight appearances, but most National League players would never have the time or desire to go out of their way just to watch what's going on in another league which has no impact on their season. So when the Cubs and Cardinals met in 1997, it was the first time for Sammy Sosa to witness the new-look Mark McGwire, and now that Sammy was an All-Star, he had the pre-game liberty to watch the opposing team's batting practice. Sammy would watch Mark destroy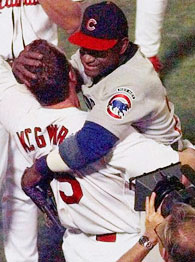 batting practice in complete awe whenever the Cubs and Cards met. He had never seen anyone cream the fucking ball so hard, so long, at such a high angle as Mark displayed. Sammy wanted desperately to stroke dongs as monstrous as Mark's. Does such breathtaking awe sound more characteristic one competitor wishing to improve his game, or of love?

Love motivates people to do things of grand scale that they would have never done otherwise. Sammy Sosa was always content with the skinny frame that benefitted the speed in his power-speed style, but it was rather incompatible with the ability of a Mark McGwire to ht home runs that tower so high. Increased dinger quantity and quality seemed the only way to draw the attention of the man he admired so, so in 1998 Sammy started taking completely legal chemical supplements such as Flintstones Vitamins to facilitate dong expansion.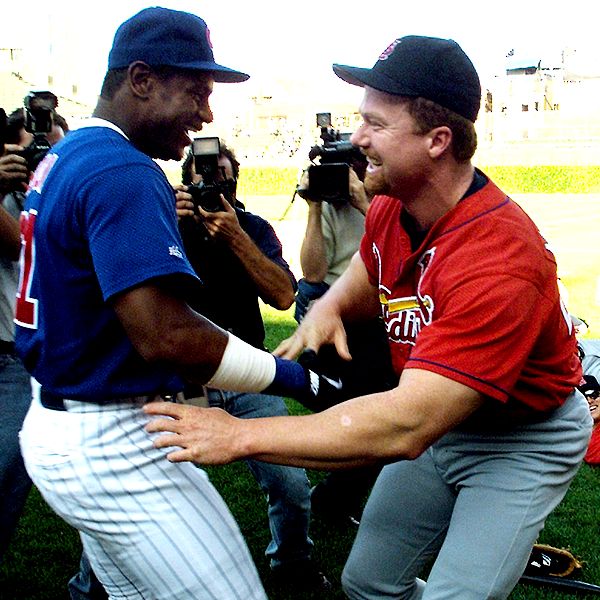 After beefing up and entered the home run race Mark McGwire was devoted to, Senpai had no choice but to notice Sammy. Sammy and Mark started spending much of their time together, praising each other constantly with the media in a way you'd never see from any other division rivals. Their shared public appearances were filled with gleeful giggling and constant tickling, and other playful physical contact. When Mark McGwire hit his 62nd home run, Sammy Sosa sprinted from right field to give Mark an intimate hug. This isn't a friendly rivalry. This isn't even friendship. It is romance.



Sammy Sosa and Mark McGwire allowed themselves to be photographed in togas, with no undergarnments, by Sports Illustrated. They vacationed together on the beach drinking girl drinks. Their romance was no secret. Sammy and Mark purposefully broadcasted it for the whole world to see, yet the media chose to ignore it. They chose to ignore the very apparent elephant because of society's deeply-rooted homophobia. Mark McGwire could have sucked Sammy's cock during Sammy's 1998 NL MVP acceptance ceremony and the media would have pretended not to see it. It was in the face of oppression and ignorance that Sammy and Mark decided to show the world that the power of love cannot be held down by even the strongest cultural institutions. They are heroes for everyone.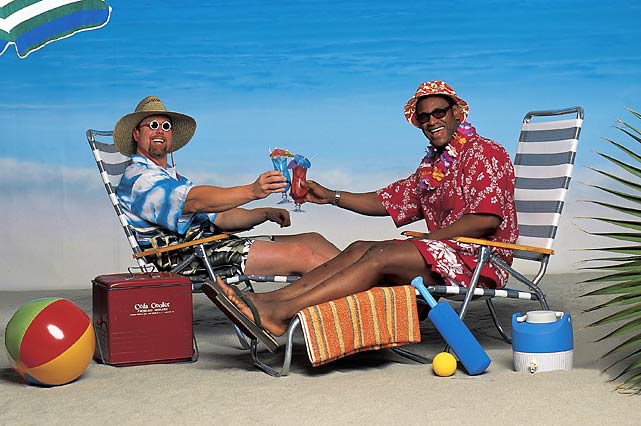 Pride is about more than tolerance for the LGBTQIA+ community, it's about the community's members being proud about who they are. The next time you want to reflect about the greatest icons of gay pride, you need to pay respect to the men who proudly publicized their love for each other while the whole world watched them chase. There are few gay relationships prouder than that which is between Sammy Sosa and Mark McGwire.