Crisis has hit Venezuela, which is so perpetually ridden in crises that specifications need to be made that this is actually a new crisis. The United States and other members of the International Community are beginning to formally recognize Juan Guaido, who is decidedly not the president of Venezuela, as the president of Venezuela. The necessity of supporting the legitimacy of President Nicolas Maduro as president of Venezuela against this coup is publicly recognized by other governments, such as those of Cuba, Bolivia, and shockingly, Venezuela.

Given Sammy Sosa's longtime friendship with the late Venezuelan President Hugo Chavez, we proudly consider ourselves at Sammy Sosa's Playhouse to be experts in Venezuelan policy. Given that President Maduro is the ideolgoical heir and political successor to Friend of Sammy Hugo Chavez, it might be expected of us to critically support Maduro against American imperialism, but given that we are prodigal sons of the Blairite 90s, we see it as fitting to seek a third way. Since you can apparently recognize someone who is quite objectively not a country's president, as their president, we will be doing exactly that.
The Playhouse respects the sovereignty and independence of the Venezuelan people and their government, but in the interest of the global unity and peace that seems out of the Maduro government's grasp, it seems the South American nation needs their prodigal son to assume his place as the new skipper.
Today, The Playhouse officially recognizes three-time All-Star and manager of the 2005 World Seres Champion White Sox, Ozzie Guillen, as the President of Venezuela.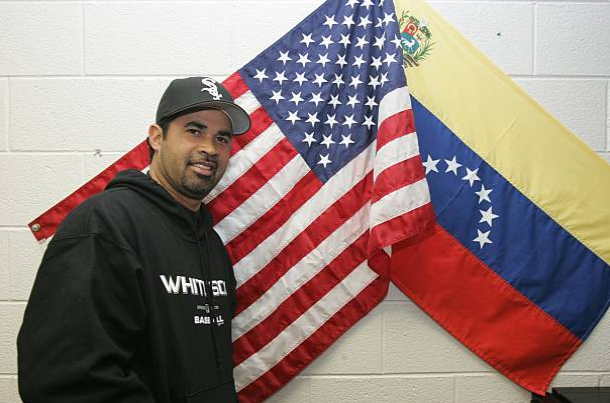 President Ozzie Guillen, a Venezuelan native, specializes in making the best of unideal positions. While the 2005 White Sox may not have had the most athletic team, and their legendary superstar Frank Thomas missed most of the season due to injury, it was President Guillen's leadership that engendered the smart small-ball tactics such as well-timed bunts, hit-and-runs, and stolen bases that allowed even Scott Podsednik to become an October Hero. President Guillen has great foreign policy experience as well. Cuba is a crucial ally to the South American oil giant, and Ozzie Guillen has spoken extensively of his respect and admiration for late Cuban President Fidel Castro.
Most importantly, Ozzie Guillen is a Friend of Sammy. Besides playing with the Jheri-curled Sosa in his early days on the South Side, President Guillen has continually defended Sammy in the face of Baseball Journalist Imperialism (BJI). While the imperialists over at the BBWAA chastiszed Sammy over his claims that he put Chicago "on the map", it was Ozzie Guillen who had the courage to say to NBC Sports Chicago that "People know who the Cubs were because Sammy put them back on the map." Venezuela deserves someone like Ozzie Guillen, who is not only an expert in cartography, but will always defend the troubled nation from its opponents.
#PresidentOzzie #JustSayOzzie