LEE SMITH ENTERS THE HALL OF FAME
July 25, 2019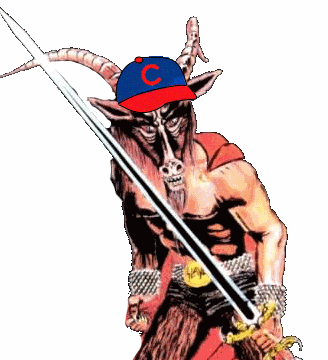 At last, we can rest our impatience with the surrealistic enchantment that is the struggle to induct Lee Smith into the Hall of Fame. Cretinous ignorance has kept Smith out of the sacred Halls for ages, allowing the legendary reliever's time on the regulation ballot to perish while new age closers like Mariano Rivera and Trevor Hoffman have waltzed into multidimensional praise. Take me not for a fool, Mariano Rivera is the most beautifully violent closer ever to consume the souls of the ninth inning and my race shall always revere Trevor Hoffman for his nightly summoning of Hell's Bells, but I have eternally observed Chicago Cubs baseball for over a century and cannot sit in apathy without bringing forth a reminder that Lee Smith belongs in the same realm of immortality. His induction into the Hall of Fame last weekend was as overdue as the execution of the archangel Michael.

Lee Smith's 478 saves were the all-time record until the aforementioned Hoffman and Rivera surpassed the great Smith atop the leaderboard of final death. Their save counts exceeding 600 are impressive and pay fine tribute to our dark lord Satan, but we mustn't forget that their careers came after Tony LaRussa and Dennis Eckersley revolutionized the closer position by restricting his call of torment to the souls who dared to walk in the blackness of the ninth inning. Lee Smith accumulated his soul collection by stalking the seventh, eighth, and ninth innings to engulf the flesh and bones of his enemies. On occasion Smith would rise the horror of nightfall as early as the sixth inning. In the seasons where Lee Smith averaged over 100 innings pitched, he collected 28 multi-inning saves on an ERA of 2.86. It was in this respect that his comparisons ought to be enflamed with the torches of Rollie Fingers and a young Dennis Eckersley, both of whom faced no dissident aggression in assaulting Cooperstown. Upon leaving our beloved Cubs an limiting his stabbing and bawling to the lone final inning where the modern closers such as the Sandman find comfort, Smith averaged 37 saves a season with an ERA of 3.07.

Oppressive holy rollers will cite Lee Smith's notorious control issues as a cosmic divider between him and the greatest closers of history. I will not deny that Lee Smith frequently walked his opponents, nor shall I spout any lies about the clogged base paths of his works often striking anxiety in the hearts of supporting spectators. In the modern era of weak wills, Lee likely would have been pulled before he could fully take control of the opposition, but in his era he seized the liberty to diffuse the decay presented by baserunners brought to life by his erratic strike zone. No matter how licks of victory were dangled in front of opposing offensive forces, when all was done Lee Smith made his effective domination known. That it is why Lee Smith will always belong in hallowed gates of Cooperstown.