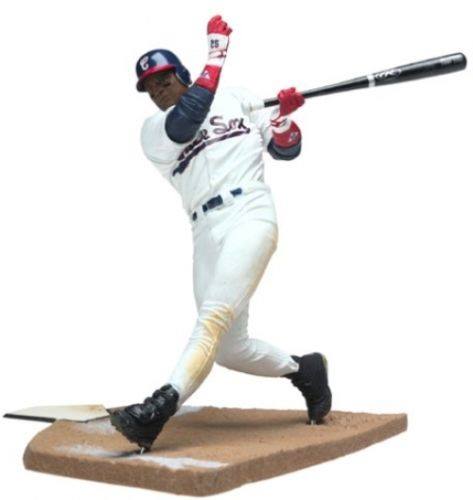 The 90s were a special time where baseball became akin to professional wrestling and the players became superhero-like figures in their media personas and their tire-sized biceps which were totally not influenced by any illicit substances whatsoever. Like, literal figures. They started making action figures based on these dudes. Sammy Sosa was quite the exciting personality from his extreme hitting power to his energetic antics and, combined with his international popularity, it was only natural that Sammy was one of the MLB's leaders in the wAFA+ statistic (weighted action figures average, calculated). Seen here is one of his many action figures.
Wait, they made fucking Sammy Sosa White Sox figure?
Okay, there were like fifty billion Sammy Sosa figures during his Cubs days. Why not? It was Sammymania, he was one of the best and most popular players on the planet. They kept making Sammy figures when he was with the Baltimore Orioles and his 07 reunion with the Texas Rangers, and while we wasn't nearly as good of a player as he was with the Cubs, he was still a household name who could put asses in the ballpark seats. But why did they make a figure for him on the White Sox?
As much as we love the jheri-curled bastard, he wasn't that good on the Sox. Sammy on the Sox was sort of like Javy Baez but without the gold glove fielding. He had the same exhaustingly hard swing he had in his prime, except he made a lot less contact, like so much less contact that his strikeout numbers were honestly sort of impressive. Sammy stole a lot of bases, but he also got caught stealing a lot. He was a hyped-up prospect who was struggling at the time, which frustrated many Sox fans even more than kindergartner wearing a Cubs hat being featured on television would frustrate a Sox fan.
Maybe Jerry Reinsdorf subscribed deeply to the premise behind our spotlight on the "Sam Sosa" baseball card. Jerry probably figured, hey, with a name like "Sammy Sosa", who wouldn't buy this figurine? Maybe he looked at Sammy's jheri curl and knew that any man who could rock that 'do would surely become the centerpiece of a maniacal nostalgist's absurdist humor Facebook page thirty years in the future.
Wait a minute. The action figure doesn't even feature Sammy's jheri curl? WHAT THE FUCK, REINSDORF?
NO WONDER PHIL JACKSON HATED YOU. YOU'RE EVEN MORE INCOMPETENT THAN DERRICK ROSE'S ABILITY TO SPELL INCOMPETENT. BILL VEECK CARED MORE ABOUT CREATING A SELF-RESPECTING BALLCLUB THAN YOUR CHEAP ASS. YOU'RE THE REASON THAT FRANK THOMAS NEVER GOT TO PLAY IN THE WORLD SERIES. MINNIE MINOSO DIDN'T DIE FOR THIS.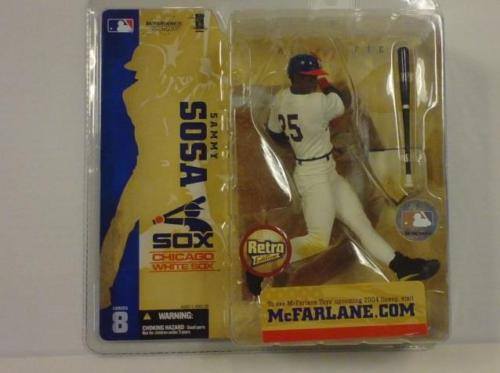 #FuckJerryReinsdorf #ObscureActionFiguresWhichWereProducedForEvenMoreObscureReasons