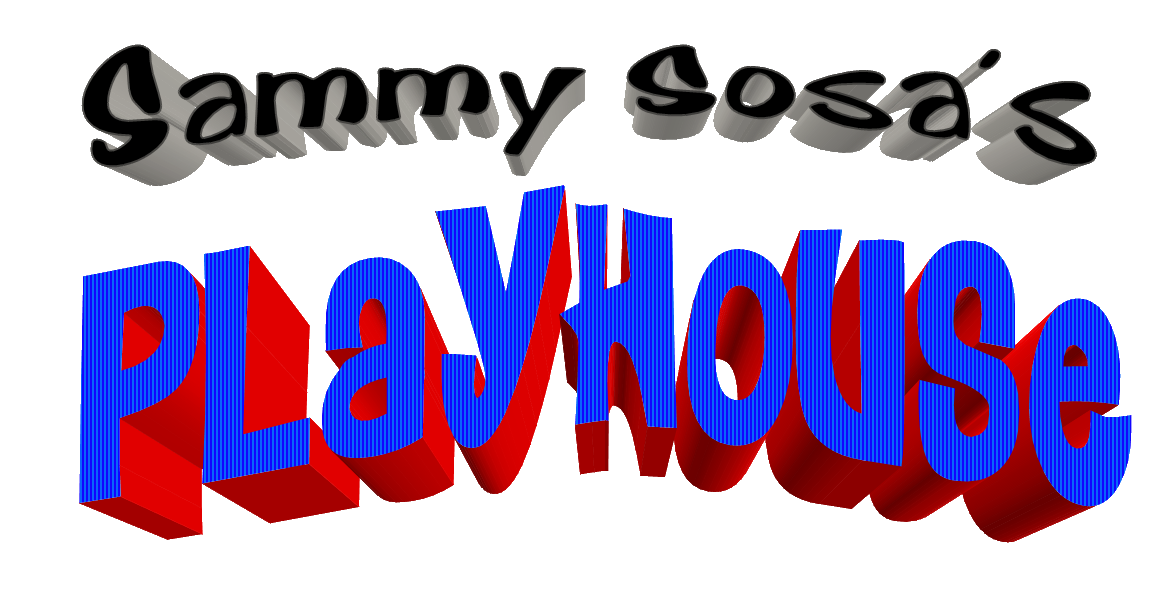 Catch Ball at Four: Ken Griffey Jr. Presents Major League Baseball
Part 1
Written by Detroit Beisbol Cat Stevens - March 31, 2020
Let's start the season. When playing in middle-length seasons, regular season series usually consist of two games, but sometimes they'll be three. Our first series is against the Milwaukee Brewers, at home at the Kingdome. Here's Game 1.

Mariners 4, Brewers 3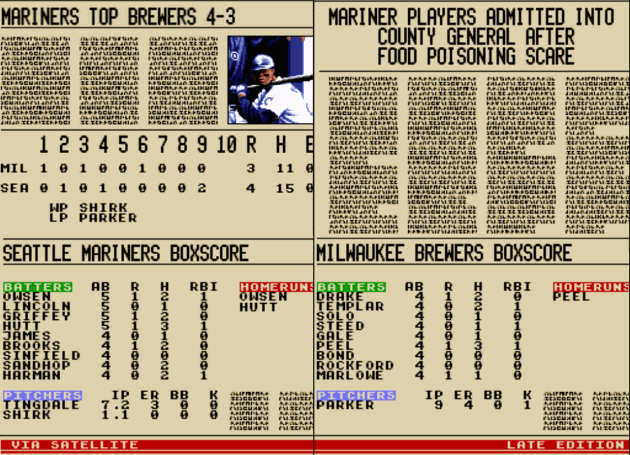 The game ended up being a bit of a nail biter at the end, definitely because I had to shake off some rust from how long it's been since I've played this game. You'll notice P. Tingdale, who is supposed to be Randy Johnson, had no strikeouts, and that is actually not related to my rust. In general, strikeouts are not that easy or efficient to get in Griffey Presents, even with Randy Johnson, whose velocity can reach about 103mph in the game if you're pitching for speed. It is near impossible to get the computer opponent to swing-and-miss inside the strikezone; if you want swing-and-misses, you have to throw balls and hope they swing at. They'll swing outside the zone if you start in the zone and then move the ball way outside when the pitch is halfway to the plate, but this is only possible with slow pitches and takes affects your pitcher's stamina a lot. I will do it somewhat frequently, but I find it easier to try inducing weak contact on the early pitches of an at-bat. If you do choose to use the high heat offered by a Randy Johnson, you don't get to use a lot movement and you have to be very careful. Pitching is controlled the same way it is in RBI Baseball, you have single pitching button, and you can press the D-pad left and right to move the ball like so, and you can hold the D-pad up and down to control velocity.

The Big Unit got into a jam right off the bat against Darryl Hamilton (T. Drake) and Hall of Famer Robin Yount (S. Templar), but an outfield assist from Ken Griffey Jr. and a 6-4-3 double play initiated by the best fielding shortstop of his time, Omar Vizquel, got him out of it with only one earned run. From there, I got the hang of the Johnson down decently. Poor fielding led to the first second Brewers run, when Tino Martinez could have ended the 3rd inning damageless by turning a 3-4-3 double play

after fielding a one-out grounder by BJ Surhoff (N. Solo), but he unsuccessfully threw to third, and a run scored on the next play. The only other run allowed was a sixth inning solo home run by Kevin Reimer (E. Peel). I had a moral conflict leaving Randy Johnson in to start the 7th, but I stuck with my ace and he got out of the inning clean with only a single allowed. Randy also got the first two outs of the 8th, but after letting up two-out single, I brought in the closer Norm Charlton (W. Shirk) for an early start to his regular 9th inning duties. Despite Johnson's quality start, he left the game ready to take the Loss.

Fortunately for his record, the Mariners came back in the 9th inning to give Johnson a no-decision and Charlton the Win. However, this comeback came after a rather quiet night on offense. Edgar Martinez (D. Brooks) scored the first run of the game on a Mike Felder (T. Harman) RBI single in the 2nd inning, while the all-glove no-bat Omar Vizquel (D. Owsen) hit a solo home run in the 4th, but the lineup largely disappointed for the rest of the game, until the 9th inning. Vizquel lead off the bottom the 9th with a single, then ended up a causality to a pre-steroids Bred Boone (H. Lincoln) grounding into a double play. The heart of the order delivered at the last minute. Ken Griffey Jr. hit a two-out double, then Jay Buhner (J. Hutt) stepped up to the plate, the in-game PA system played a 16-bit rendition of "CHARGE!", and Bone hit a 2-run home run to walk off the game. Thank Allah the Brewers decided to leave Cal Eldred (P. Parker) in for the whole game.



Mariners 8, Brewers 5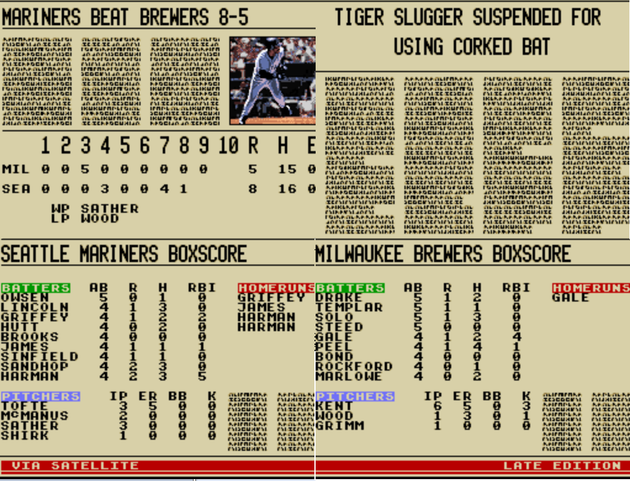 I'd love to treat these fake headlines as absolutely canon, but you'll see down-the-line that they can often be contradictory. They have a few headline templates with blank nouns and then they randomly cycle through which teams fill in the blanks, like Mad Libs. I'd like to think some of them can be canon. To play with this particular headline and try imagining who in particular got busted for corking, most readers would probably think of Cecil Fielder as the most prolific Tigers slugger of this era, but in my universe Big Daddy had a teammate Tigers teammate you might associate more with the act of corking a bat: Sammy Sosa. Yes, the real Sammy Sosa, was drafted by the Phillies in my universe, but he was traded midway through his rookie season just as he was between the Rangers and White Sox in this universe, but for us, he went to the Tigers. Now, just as in this dimension, he never got busted for corking until 2003 (as a member of the Red Sox, with whom he signed in the 1994 offseason), but he certainly has a history.

Game one may have hat a lot of hits, but Game 2 between Erik Hanson (K. Tofte) and Jaime Navarro (C. Kent) was a more of a proper slugfest with five home runs. This is the norm of Ken Griffey Jr. Presents Major League Baseball, which can be described as the Steroid Era on steroids.

Erik Hanson had to be hooked early after letting up loading up the bases for Kevin Reimer to drive in the game's first run (Surhoff scored), followed by a grand slam by
future Moneyball alumnus but current scrub, John Jaha (K. Gale) - Reimer, Greg Vaughn (J. Steed), and Robin Yount all scored. The combined efforts of Tim Leary (R. McManus), Jeff Nelson (P. Sather), and Norm Charlton kept the Brewers scoreless for the rest of the game.

All Mariners runs came on the long ball. After three scoreless innings for Seattle's lineup, Mike Felder put the M's on a the board with a 3-run home run, scoring Mike Blowers (G. Sinfield) and Dave Valle. Ken Griffey Jr. then hit a 2-run home run on which Bret Boone scored in the 7th to take the lead. In the same inning, Felder went yard for the second time of the night, after which the Brewers took out Navarro for Jesse Orosco (B. Wood). The one-time Mets ace lasted only an inning, being removed after allowing a solo home run to Tino Martinez (D. James) in the 8th, for Matt Maysey (B. Grimm).

I wasn't too happy with Game 1, but I'm glad to have had control in the second game. This Brewers team is not one that this Mariners team should have any problems against. Headlined by a young Greg Vaughn and an aging Robin Yount, with not much of a pitching staff, the last Brewers team to wear the royal blue Ball-in-Glove pinstripes makes for an ideal team against whom you can shake off some rust. The fake name theme for the Brewers is a combination of TV detectives/agents (Jim Rockford, Phillip Marlowe, James Bond) and comic book alter egos (Clark Kent, Peter Parker, Bruce Wayne). It's a missed opportunity that pitcher Cal Eldred was given the fake name of P. Parker, rather than Clark Kent, as Kal-El is Superman's Kryptonian name.

From a pushover to the exact opposite of one, our next opponent is the defending back-to-back champion, the Toronto Blue Jays. We'll be the visiting team at the Skydome.
Mariners 3, Blue Jays 2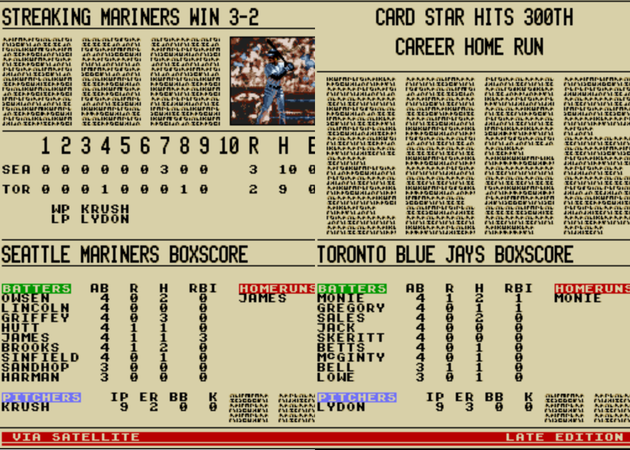 Here's another instance of the Mad Libs headlines coming out weirdly. We've still yet to enter the Mark McGwire era of Cardinals baseball, with St. Louis still nursing the hangover of their famous small-ball powerhouses of the 80s, and this particular iteration of the Red Birds had no real candidates for reaching the 300 home run plateau in 94. Brian Jordan would go on to have some fine seasons in the home run department, but not only would he never reach 300, he was only in his third season at this point. Mark Whiten was coming off a 25-home run year and Ray Lankford would put together a surprisingly powerful pre-strike 94, but both were too young and neither would hit 300 in their career.

With both Chris Bosio (E. Krush) and Dave Stewart (J. Lydon) throwing complete games with only one homer allowed each, this nineteen-hit game is about as close to a pitcher's duel as you're likely to find in Griffey Presents.

Rickey Henderson (J. Monie), the Hall of Famer whose self-proclamation as the Greatest of All Time is far more justified than he is given credit for, provided the first piece of run support for his former Oakland A's teammate with a solo home run in 4th inning. The Blue Jays' next and final run would come from the heart and soul of Toronto baseball, Roberto Alomar (S. Sales), whose 8th inning bases loaded single scored Pat Borders (D. Bell).

Tino Martinez's three-run home run (scoring Jay Buhner and Edgar Martinez) in the 7th inning may have been the only scoring play for Seattle, but it was enough thanks to Chris Bosio's surprisingly dominant start. Bosio was well past his prime in the 90s, but I have no complaints about him turning back the clock to his Brewers self. I'd like to blame my lack of offense on Dave Stewart, who I am a big fan and think is not given enough credit for his dominance on the Bash Brothers A's team that won three straight pennants and a ring, but Stewart on the Jays was a mere shadow of himself on the A's. Griffey Presents is a game where you'll need home runs to score, and this Mariners team with Griffey, Buhner, and the non-brothers Martinez should have zero problems being that home run offense. We'll see what we can do in Game 2.

When playing at the Skydome, the 16-bit Star Spangled Banner is replaced with 16-bit O Canada.
Mariners 4, Blue Jays 0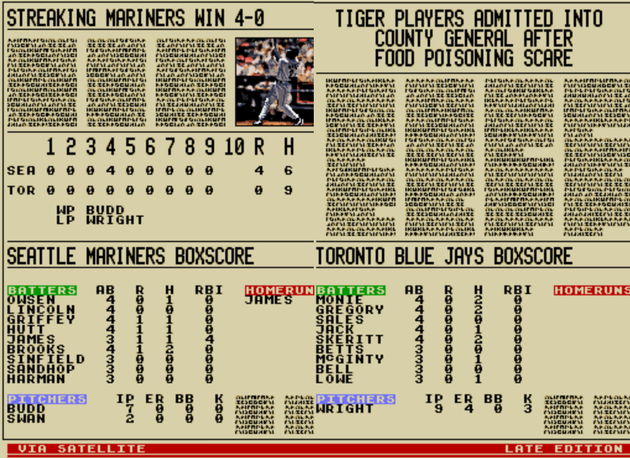 My hometown can't catch a break, can it? At least we're making the front page.

Tino went yard for the third game in a row, and this time it was a grand slam. Unfortunately, that grand slam was the only scoring play for Seattle. In previous games, we had consistently gotten on base even if he failed to bring anyone home, but with six hits total in the second game of this series, we are very grateful for Tino Martinez. Todd Stottlemyer (N. Right) induced a lot of soft contact and the Gold Glove-laced Toronto infield did what they needed to.

Of course, Dave Fleming (C. Budd) and Ted Power (L. Swan) did come home with the shutout. The real Dave Fleming's curveball has not translated to the SNES in the most favorable way, but it got the job done. The irony is that the Blue Jays, who are coming off back-to-back World Series victories, are not the best team for this video game. Griffey Presents is systematically rigged in favor of home run offenses. While the combined powers of postseason hero and SABRmetric anathema Joe Carter (W. Jack) and future Mariner and helmet-in-the-field-guy John Olerud (K. Skerrit) disqualify the Blue Jays from true small-ball categorization, it is the speed of Rickey, Alomar, and Devon White (A. Gregory) that really fueled this short-lived dynasty, but you wouldn't know it from playing the video game.

We've defeated a team nobody really cares about, we've defeated the reigning champs, but now we must go back home to Seattle and face the first Playhouse team of the season: the Baltimore Orioles. The O's pitching staff of Mike Mussina/Jamie Moyer/Fernando Valenzuela/Rick Sutcliffe looks amazing on paper, but this team had to settle for third place in the East last year because the latter two pitchers are well past their years of winning Cy Young Awards, while the 30-year-old Moyer still needs a bit more experience — uniquely, he would peak in his early 40s.

Mariners 1, Orioles 0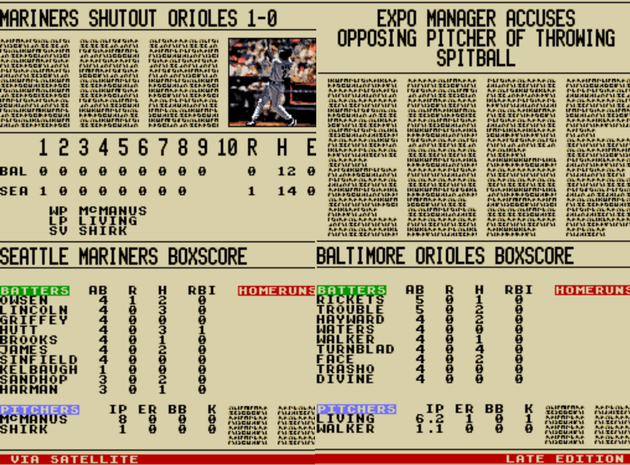 Yes, the great Expos manager Felipe Alou, is a staunch opponent of salivating onto baseballs... what is it with the Alou family and bodily fluids? I wonder, if Felipe is such a clean freak, if he ever had a falling-out with his son, Moises, over his habit of urinating onto his hands to improve his grip on the bat, instead of wearing batting gloves?

Despite Jamie Moyer (D. Living) being the sure favorite over Tim Leary and pitching quite well, it was Leary who won this one-run duel. The Mariners came out swinging in the bottom 1st and Jay Buhner drove in the speedy Omar Vizquel from second for take an early lead, but that would end up being the only run for either team. Unfortunately, Griffey went 0-4, Tino's home run streak ended, and Edgar continues to do thing.

Game 2 is ace vs. ace: Randy Johnson vs. Mike Mussina (P. Flamingo).
Orioles 4, Mariners 3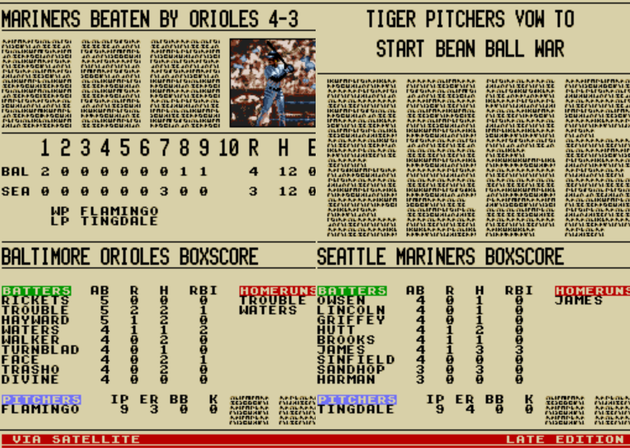 We lost our first game, but first, I have some questions about Detroit in your universe. Now, the Detroit I know and love has never been a utopia, but when the chaos of the city is starting to be acted upon by the baseball team, you've got problems. Oh dear, you don't have that mechanical police officer, do you? Oh well, I suppose when you're lead by Mike Moore and a past-his-prime Kirk Gibson, your morale is going to spread some bad vibrations. Moore must be past the point where he longs for his glory days to return, so now he just wants to fuck around while making easy money. Start throwing balls at batters, cork Cecil Fielder's bat when he's not looking, that kind of thing. Sparky Anderson would be so struck by I-used-to-be-someone Syndrome that he would let it all happen, if he noticed the destruction of the Detroit Tigers legacy at all through his depression.

Anyway, the loss. The second-most popular Junior to have a Super Nintendo game, Cal Ripken (J. Waters), took the lead with a 2-run home run that scored Mike Devereaux (C. Heyward) in the 1st inning, but Randy Johnson mostly took care of the O's for the rest of his complete game. I relied more on his fastball more than I planned to, partially because I had a lot of fun doing so, and partially because it feels wrong to pitch for finesse as the Big Unit. In hindsight, I should have taken him out after 7 innings. He loaded up the bases in the 8th, allowing Mark McLemore (F. Trouble: best fake name on the team) to score on a Mike Pagliaruo (M. Trasho: second best fake name on the team) single. McLemore caused more Fucking Trouble in the 9th inning with a solo home run.

The only Mariners runs came off of Tino's 7th inning 3-run homer, scoring Buhner and Edgar. We had a few opportunities to do more and wasted them. Edgar Martinez grounded into a double play with two men on in the bottom 1st. Valle hit a towering but slow flyball of the centerfield wall in the 2nd, but I got cocky and sent him to turn it into a double, where he got caught. I made a similar mistake with Tino in the 5th, when he hit a short outfield hit past Brady Anderson (R. Rickets) in left. Figuring that this was pre-steroids Brady Anderson who just missed a seemingly easy catch, I had my slow first basemen stretch for the two-bagger and it didn't work. Junior towerd a ball just foul in the 6th, and then popped out to the other Junior on the next pitch; at least Griffey ended his one-game slump by getting a hit today.

The next game is against the Brewers. This time, we're visiting County Stadium.
Mariners 4, Brewers 2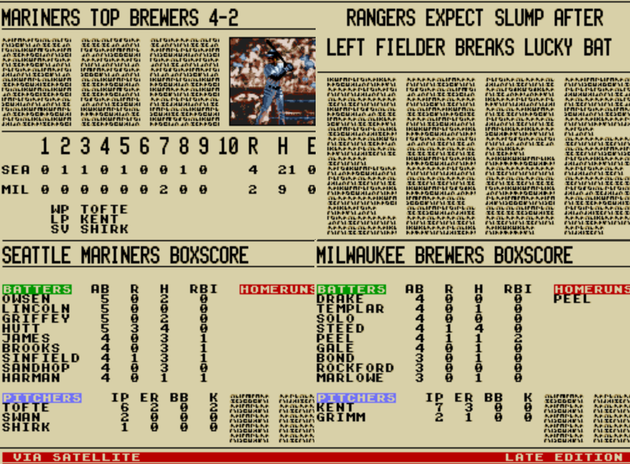 Griffey Presents shows you the scores of all the League's games after they give you this newspaper, and as of right now, the Rangers are hot on our tail in the West at 3-3, so we should hope for a slump. I know most of you don't have tails, but I really dislike it when people grab mine. Especially Texans. Something about that Rangers beat writer with the mustache rubs me the wrong way. Anyway, the Rangers left fielder at this time was Juan Gonzalez, known in Griffey Presents as D. Varyu. While he was great in the 90s and 93 was one of his best years, he was injured for much of 94.. Coming off his best season at that point, his confidence must have been shattered when his lucky bat was also shattered, and the self-fulfilling prophecy must lead to his time on the DL. We'd do well if the rest of the powerhouse team gave up with Juan, but new Ranger Jose Canseco is likely to have other ideas to "help" the team rebound.

Erik Hanson vs. Jaime Navarro for this one. Kevin Reimer's 2-run homer in the 7th, scoring Greg Vaughn, was Milwaukee's only scoring play, but the Mariners finally managed to distribute some runs across multiple innings. Doubles-machine Edgar Martinez doubled to bring Jay Buhner home in the 2nd. After Felder drove in Blowers in the 3rd on a triple, Bone scored again in the 5th and 8th inning, off hits by Tino Martinez and Blowers, respectively. Although the top half of the lineup didn't add anything to the runs column, they did continuously get on base. Everyone but Bret Boone got a hit in this game. With 21 hits and no home runs, I would take this team effort over any previous empty slugfests as the top offensive performance of the season so far.
Mariners 2, Brewers 1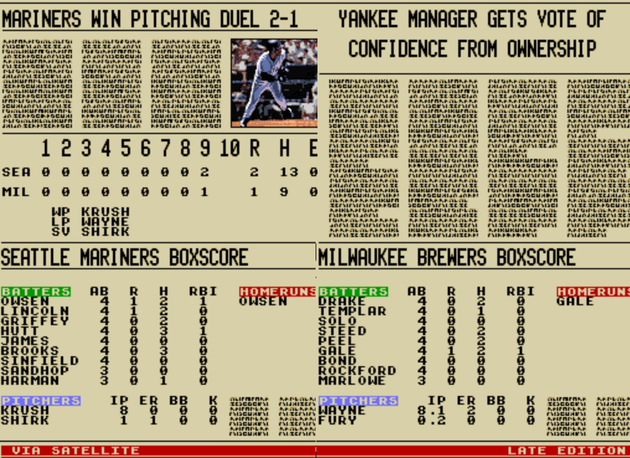 With George Steinbrenner recently returning from a "lifetime" ban, he's wasted no time doing what he does best, and getting in the headlines with drama involving the new Yankees' manager. I'd bet Steinbrenner never intended for anyone but Buck Showalter to manage the club, but wanted to make it look like he was considering other options before formally announcing a vote of confidence.

22 hits aside, this was a real pitching duel, as the paper suggests. The game remained scoreless until the top of the 9th, which Omar Vizquel lead off with a solo home run, causing Milwaukee to yank Ricky Bones (B. Wayne) for Doug Henry (N. Fury). The best arm in the Brew Crew's limited bullpen wasn't an improvement, as Bret Boone would score on Jay Buhner's RBI later in the inning.

Chris Bosio pitched another gem, but once I got the lead in the top of the 9th, I wasn't going to give the bottom to anyone but my closer. That paranoia might have been a mistake, as John Jaha took Charlton yard in the bottom of the 9th to give us a scare, but Norm settled down for the save.

Next up, we face our toughest opponent yet, the Cleveland Indians who would go on to win two American League pennants in the near future. Their powerhouse lineup was both dominant in real life and ideal for Griffey Presents, but given that these rosters are based on 93, we don't have to deal with the Dennis Martinez/Jack Morris pitching staff that would join the Tribe in 94. Many Indians fans feel that 1994 would have been their year, but that season was not cancelled in my universe and I can confirm that the White Sox won the AL Pennant that year. Sorry Cleveland, but if it's any consultation, we never got the movie Major League, so nobody makes that much fun of you guys.
Indians 6, Mariners 5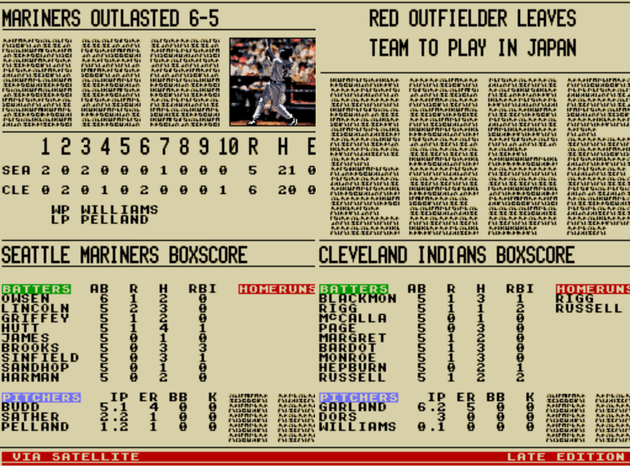 It's weird seeing "Reds" written in singular form. Actually no, it's not just weird because it's the Reds, that's just improper form completely. You wouldn't say "Mariner Outfielder", as it's "Mariners Outfielder". Issues like these are why Nintendo would have Rare relieve Software Creations of handing the Griffey IP.

There's first extra-innings game and our second loss. I'm not too distraught about this one-run game, because as high-scoring as it was, all one-run games go down to some amount of luck, and we had tails when we should have gone with heads. I, as a tiger, have both a head and a tail, but I only have one of each. Our overall performance was good, despite the result.

Dave Fleming wasn't too bad for what I expect. He left too many hanging. I tried the strategy of throwing sliders outside to get swings-and-misses, so it is frustrating to see so many pitches being thrown well outside of a batters' reach, where the batter swings at nothing, but the game registers that as contact and hits a home run. The camera cuts away as soon as contact is made, so the game doesn't want you to notice, but I know where the pitch went. Alvaro Espinoza (D. Rigg) and Felix Fermin (J. Russell)'s home runs both came in such instances; Espinoza's for two runs in the 6th, with Fermin's being the solo shot to walk off the game in the 10th.

As I said, the Mariners offense did do a bit of damage against Tom Kramer (J. Garland). Edgar Martinez finally had himself a game, going 3-5 with a 2-RBI double to score Griffey and Boone in the 1st; his next RBI drove Griffey in once again, in the 7th. Buhner drove in Boone's second run of the game in the 3rd, and he scored a run thanks to Mike Blowers later on.

Next game is Leary vs. Bob Ojeda (G. Kelly).
Mariners 7, Indians 2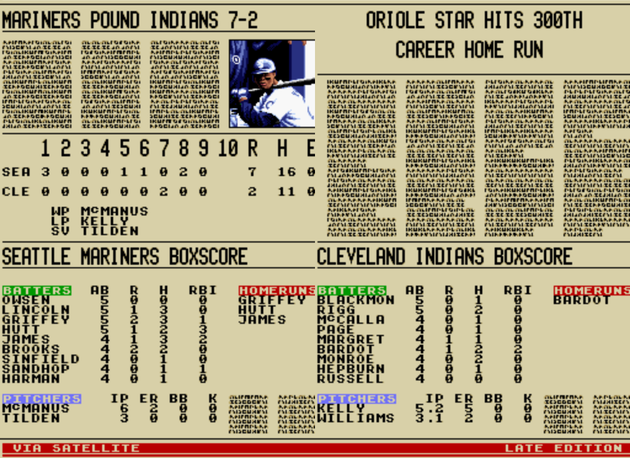 Yeah, these headlines can repeat. This is notable because of how the auto-generated headlines got lucky and actually coincidentally got something right. Orioles legend Cal Ripken Jr. actually did hit his 300th career homer in the 1994 season. You did good, The Kid, Presents Major League Baseball you did real good.

Ended up splitting the series at Cleveland. The whole team contributed with the bat. Griffey, Buhner, and Tino all went yard, carrying all the RBIs along with Sandhop. I got really used to Tim Leary's splitter, and found it quite fun to use. Dwayne Henry (G. Tilden)'s line might look great on paper, but the but Cleveland hit some hard contact off him.


That's all for Part 1 of Catch Ball at Four: Ken Griffey Jr. Presents Major League Baseball. Here's how the AL West looks right now.





Next time, we return to my hometown, albeit in a dimension still foreign to me. We will face the Detroit Tigers at Tiger Stadium. Dave Fleming will start against a pitcher with a very unique career path, Bill Gullickson (G. Knight).