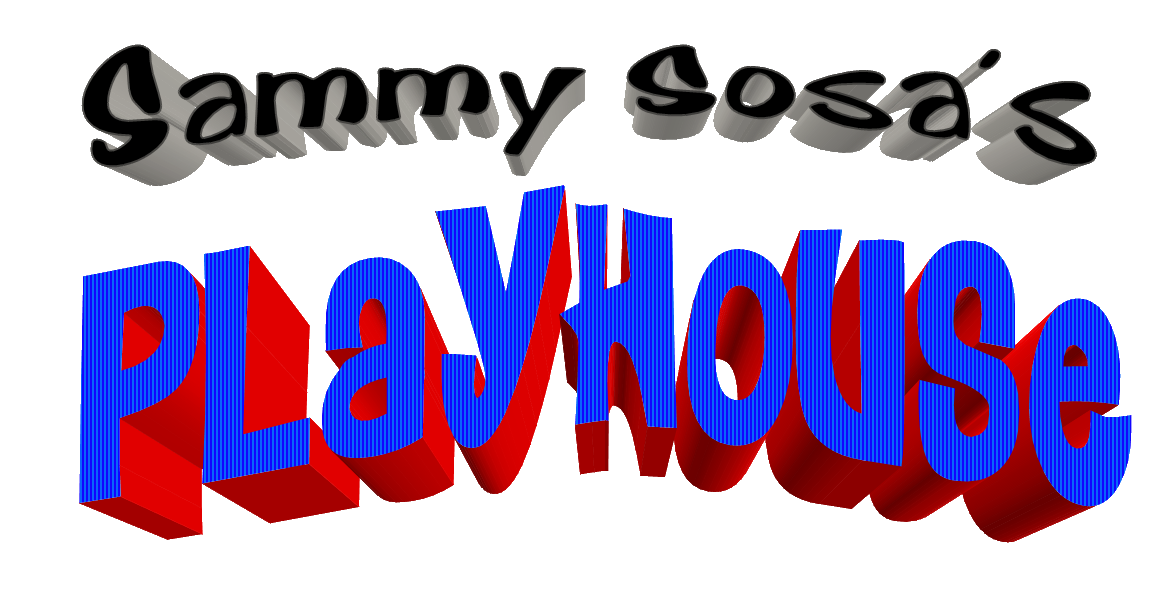 Catch Ball at Four: Ken Griffey Jr. Presents Major League Baseball
Background + Instruction Manual
Written by Detroit Beisbol Cat Stevens - March 31, 2020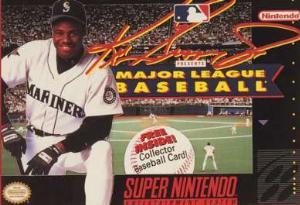 Ken Griffey Jr. Presents Major League Baseball was released for the Super Nintendo Entertainment System in March of 1994. The game was developed by Software Creations and published by Nintendo. Everybody knows Nintendo, but their relation to this particular game is significant because the Japanese gaming giant purchased the Seattle Mariners in 1992. While Nintendo of America's then-president Howard Lincoln's leadership over the Mariners' baseball operations would ultimately prove controversial with Seattle sports fans (and taxpayers) in the new millennium, the Ken Griffey Jr. video game franchise stands as a testament of marketing brilliance. It is debatable how much of that can be attributed to the wits of Nintendo, whose business chops all but monopolized console gaming in the late 1980s, or to the charisma of Ken Griffey Jr., who had become ubiquitous in commercials and multimedia pop culture by the mid 90s.

The brilliance behind Nintendo's decision to license Ken Griffey Jr. into an official Nintendo franchise alongside the Super Mario Bros. was almost certainly unforeseen by the company at the time, and unfortunately is never referenced by current institutions like Super Smash Bros., which proport to document Nintendo's history. While most of Griffey's extracurricular activities can seldom be viewed today as anything more than artifacts of a culturally amusing bygone era, the survival and growth of video games as an now-enduring medium has rendered works of the past as compelling to revisited and enjoyed by future generations, much the same way that literary and cinematic works cannot ever be considered obsolete. The Griffey game franchise would indeed become a franchise consisting of six games spanning four different Nintendo platforms, with the editions released for home consoles generally being upheld as some of the best baseball video games ever. The first, most popular game which I will be playing in Catch Ball at Four, was developed by the now-defunct English studio Software Creations, who are perhaps best known for Plok becoming a cult favorite amongst progressive rock enthusiasts, but sequels were developed by some more prolific studios who better reflect The Kid's fame such as the powerhouse behind Donkey Kong Country and GoldenEye 007, Rare. Still, it is Ken Griffey Jr. Presents Major League Baseball by the forgotten Software Creations which receives the most fanfare today. Just as this 1994 game surely helped guide many withdrawn baseball fans through the cancelled '94 and shortened '95 seasons (which never happened in my home universe, but it is for your own sake that I don't tell you the epic legends of the Expos-White Sox World Series), it is rather fitting that we revisit this classic now that we are again in lieu of baseball.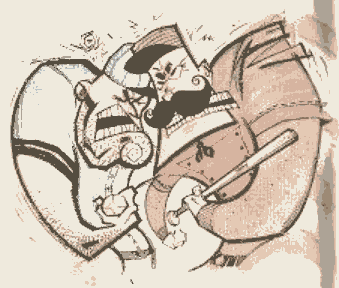 The manual of Ken Griffey Jr. Presents Major League Baseball begins with a primer on the history of baseball. This is a very thoughtful feature, as Nintendo games are primarily meant for young children who might just be beginning their journey on the pathway of baseball fandom. It's also helpful for leading us transdimensional tigers down the path of findout to see how our concept of baseball holds up in the new universe. Accompanied by charming illustrations of old-timey, mustachioed ballplayers, there are some tidbits given which would be disputed by some factions of baseball intelligentsia, notably, the assertions that the Cincinnati Red Stockings were the first professional ballclub and that the first World Series in 1903 is the formal beginning of "the modern era of baseball". Some readers might be disappointed that the game's young and impressionable audience would read this historical trivia as fact when the details are dubious at best, but I see a certain beauty in it. Baseball's allure lives in its deep lore which can be debated and interpreted in many different ways, despite paradoxically being the sport in which ostensibly objective statistics are given the most attention. To indoctrinate the youth into embracing that paradox is bring them closer to the baseball gods than they would be if they were only given the miniscule amount of facts wherein lies a history which is completely agreed upon.

The next chapter explains he various game moves. There is an All-Star Game and a Home Run Derby, a World Series in which any NL and AL team can be chosen to compete for seven games, a standard exhibition mode, and the season mode. The season is what we will play, and this has numerous options within itself. You can play 26 games, 78, or the full 162; I will play 78 games. You are also given the option of playing the season under 1969 division rules, with two divisions in each league and a postseason consisting only of League Championship Series and the World Series, or you can play under the three-division-per-league structure introduced in the 1994, although the addition of the Wild Card and the subsequent Division Series to postseason could not be tested in your reality until the 1995 postseason. We will play with 1994 rules, and I would encourage players to think of this game as a concrete simulation of what a completed 94 season might have looked like.

We are given diagrams of the controls, followed by descriptions of each team, along with the years in which they were founded and any World, League, and/or Division Championships they have won. Each description is comprehensive and covers the precise history you'd expect their respective fanbases to prioritize, although it is comical and understandable how the two 1993 expansion teams ended up with descriptions lasting a short couple sentences each.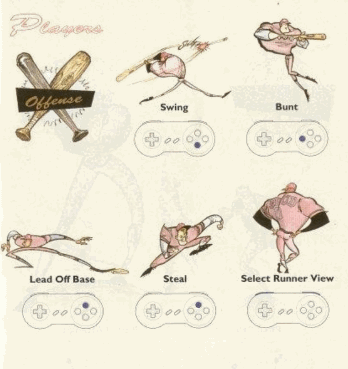 I will share the blurbs for the Seattle Mariners because we will be playing as them, along with the four Playhouse teams.
SSEATTLE MARINERS (1977)
World Championships: None
American League Championships: None
American League Division Championships: None
Since entering the league in 1977, the history of the Seattle Mariners has consisted of more downs that ups. In fact, early Mariner highlights often centered around strange giveaways like Funny Nose Glasses Night more than great play on the field. But, in recent years, the attitude in Seattle has changed with a greater emphasis on winning. This has been demonstrated by the hiring of a proven manager (Lou Piniella) who is still in the prime of his managing career and the active pursuit of top players through trades and free agency. After 14 seasons of sub-.500 baseball, the Mariners finished over .500 in 1991 and again in 1993 and now strike fear in opponents with Randy Johnson's power pitching, Jay Buhner's cannon arm, and Ken Griffey Jr.'s exciting all-around play.
One of the hallmarks of this era of baseball video games that seems archaic to modern audiences was that publishers had to acquire the license from MLB to use real team names and the license from the Player's Association to use real player names separately. If a game got any license at all, they tended to only get one or the other. RBI Baseball got the players but used generic city names for teams, and Griffey Presents has the real teams, but contains no real player names other than Ken Griffey Jr. All the players in Griffey Presents have the 1993 statistics, handedness, and jersey numbers of real player, but use fake names. Sammy Sosa's expy, to use a Playhouse-relevant example, is called E. Crash. I address this Oakland White Elephant in the room now because I am surprised to see both Lou Piniella and Jay Buhner namedropped in the manual. Did Nintendo get the license for the manual but not the game, or did expect no lawyer to bother looking in the manual of their Ken Griffey Jr. video game?

Either way, here are the Playhouse team descriptions.
TEXAS RANGERS (Washington Senators 1961-1972, Texas Rangers 1972-)
World Championships: None
American League Championships: None
American League Division Championships: None
Born through expansion to pacify Washington citizens following the original Senators' move to the Twin Cities, the new Senators never took flight enduring 10 losing seasons before moving to Arlington, Texas in 1972. Like the Seattle Mariners in the 1980s, the Rangers struggled to shake their expansion image in the 1970s. Throughout the 70s, the Rangers made a habit of acquiring veterans who were past their prime. Many of these transactions backfired leaving the Rangers with a depleted farm System and a high payroll. Although the Rangers haven't won a division championship since moving to Texas, many experts consider the Rangers to be the team of the 90s with players like 24-year old Juan Gonzalez, who has already won 2 home run titles and Will Clark, an perennial all-star during his 8 seasons with the Giants.
CHICAGO WHITE SOX (1900-)
World Championships: 1906, 17
American League Championships: 1900, 01, 06, 17, 19, 59
American League Division Championships: 1983, 93
For nearly 100 years, the White Sox have been Chicago's southside team. Sharing the Windy City's fanbase with the Cubs, who play on the North side of town.
During this time, the White Sox have fielded some great teams including the Shoeless Jackson led teams of the 1910s and the Go-Go Sox of the 1950s, which was one of only two American League teams other than the Yankees to appear in the World Series from 1949-60. Led by one of the best young pitching staffs in baseball, the White Sox won a division championship, in 1993, and experienced post season play for only the second time since 1959.
CHICAGO CUBS (1876-)
World Championships: 1907, 08
National League Championships: 1976, 80, 81, 82, 85, 96, 1906, 07, 08, 10, 18, 29, 32, 35, 38, 45
National League Division Championships: 1984, 89
Though the Cubs haven't been to the World Series since 1945, there isn't a team in the Major Leagues with fans as devoted as the ones who flock to Wrigley Field. Prior to the 1945 World Series, the Cubs appeared in a respectable 10 World Series, however they lost 8 consecutive Series after winning in 1907-08. For even the most loyal Cub fan, the 1969 season was a difficult one to endure. Throughout the first half of the 1969 season, the Cubs sat atop the Eastern Division and, by mid-August, their lead had ground to 8 and a half games. As the summer came to a close, the Cubs began to fight two foes: pressure inflicted on themselves and the Miracle Mets, a lowly expansion team that finished 9th or 10th in each of their previous 7 seasons. The Mets made an incredible charge overtaking the Cubs, eventually winning the division by 8 games. The significance of this event is that the Cub fans stuck by their team following the flop. Today, 25 years later, fans in Chicago can buy "Forgiven But Not Forgotten" shirts referring to the summer of '69.
BALTIMORE ORIOLES (St. Louis Browns, 1901-53, Baltimore Orioles 1954-)
World Championships: 1966, 70, 83
American League Championships: 1944, 66, 69, 70, 71, 79, 83
American League Division Championships: 1969, 70, 71, 73, 74, 79, 83
It's a little known fact that the Baltimore Orioles were once the Milwaukee Brewers — the original Brewer, that is. A charter member of the American League in 1901, the team moved from Milwaukee to St. Louis and changed its name to the Browns prior to the 1902 season. The purpose of the move was to give the new American League a team in St. Louis, the fourth largest city in the nation at that time. The Browns never enjoyed the popularity of their cross-town rivals, the Cardinals. Of course, bad play didn't help. From 1901-1953, the Browns winning percentage was an anemic .433 with only one World Series appearance, which the Browns lost to the Cardinals. As bad as the Browns were, the Orioles of Baltimore have been absolutely stellar by comparison. Since 1969, the Orioles have the best winning percentage in baseball including the incredible 1969-71 O's that averaged 106 wins per season during that 3-year span.
As stated before, many baseball games of this era had to make up player names, but many games also made up all the players besides whomever had their name in the title. Griffey Presents has what you could describe as real players with fake names. The game gives you the option to edit names, which many players utilize to give players their real names, but I will preserve the integrity of every character as a Ken Griffey Jr. character, as the Ken Griffey Jr. series is a canon of its own as opposed to a mere baseball simulator. I will acknowledge who many players really are, and I will often use their names in summaries interchangeably with their fake names, out of habit. Many of the fake names are amusing on their own, as most teams have a theme which all fake names correspond to. My hometown Detroit Tigers are mostly named after Motown musicians, while the Seattle Mariners are named after Nintendo employees. The references are explicit rather than implied. When Royals players are named after US Presidents, they don't use W.J. Klinton; they use B. Clinton. It's wonderful.


Here is our Seattle Mariners Roster
Starting Position Players
C - P. Sandhop (Dave Valle)
1B - D. James (Tino Martinez)
2B - H. Lincoln (Bret Boone)
3B - G. Sinfield (Mike Blowers)
SS - D. Owsen (Omar Vizquel)
LF - T. Harman (Mike Felder)
CF - Ken Griffey Jr. (Himself)
RF - J. Hutt (Jay Buhner)
DH - D. Brooks (Edgar Martinez)
Bench
C - L. Barr (Bill Haselman)
C/OF - M. Kelbaugh (Mackey Sasser)
CI - R. Donker (Dave Magadan)
2B - J. Cordell (Rich Amaral)
2B/OF - J. Story (Greg Litton)
OF - S. OConnor (Brian Turang)
Starting Pitchers
1 - J. Tingdale (Randy Johnson)
2 - K. Tofte (Erik Hanson)
3 - R. McManus (Tim Leary)
4 - C. Budd (Dave Fleming)
5 - E. Krush (Chris Bosio)
Bullpen
CL - W. Shirk (Norm Charlton)
RP - P. Sather (Jeff Nelson)
RP - G. Tilden (Dwayne Henry)
RP - L. Swan (Ted Power)
RP - S. Pelland (Russ Swan)
A baseball classic will soon be with you.